News from Italy
Maremma News Stories
News from Italy about La Maremma is rare. It is still waiting to be discovered by English and American visitors and is a place in which the pace of life is slow and dominated by the seasons. Little then to offer of interest to the mass media. And for that I am very happy. :)
But some Maremma news stories - mostly about her wines and rich Etruscan archaeological finds - are of interest to the wider world and a curiosity about this beautiful land is beginning to grow.
In January 2009 the New York Times placed Maremma, Italy at Number 11 in its recommended "44 places to go in 2009".
And then there are the reports of superstars visiting Maremma: George Clooney spent the summer of 2008 in the 16th century Montepergoli Villa in the wine-producing village of Bolgheri.
And Nicole Kidman had a brief stop in Grosseto in 2009. (There was a great news headlines splashed across the local billboards for what apparently mounted to the fact that she ate a panino there!).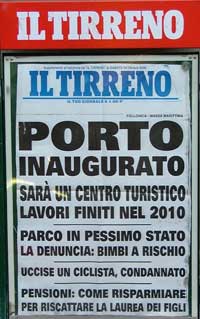 News from Italy: Maremma Italy news stories
And more frequently, occasional articles in the UK and US weekend newspaper travel and food magazines/online pages about Maremma's more famous restaurants - such as the Ristorante Gamero Rosso described by the food critic Francois Simon as his favourite restaurant in the world - or luxury places to stay - such as the Il Pellicano or L'Andane.
Well, apart from the celebrity gossip trivia, until Maremma hits the headlines in a regular way in English and American newspapers and televison, you may read the latest news as it is reported here.
The News Reports are in two parts.
First, Google News for all of the Maremma news stories from around the world. Want to read the latest news in Italian for Maremma? Click on the Maremma Toscana link at the top of the reports and the Google results will switch.
And then the Local Maremma News reported by local businesses, museums, parks etc. and you!
Your Maremma News Stories & Comments
Do you have a news story of your own about Maremma? Tell us about it here using the simple form below and share it with the thousands of visitors to the Maremma Guide each month.

Want to comment on a story? Your comments on the news are welcome too!
Your News and Comments
Click on the links below to read the contributions of other readers...
Italian Cup - Orienteering - 2010
The medieval hill town of Roccastrada in Maremma is to host the first international orienteering competition of 2010, the Italian Cup - Orienteering - …
---