Tourist Information
Lucca Italy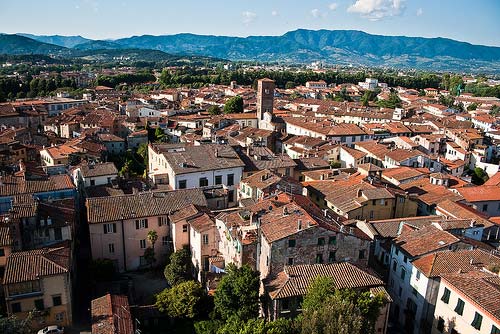 Looking for tourist information Lucca Italy? Here you will find details of every Italian Tourist Board Office in Lucca and in the surrounding towns and villages. They are great places to find out about festivals and events during your stay in Lucca, to pick up free street maps and information about places to visit, book accommodation and tickets and much more.
I will never forget my visit to the Tourist Board Office in Piazza Santa Maria in Lucca. It was a Saturday night and my first night in Italy and I was on my own driving a hire car around the very narrow medieval streets of Lucca looking for the villa accommodation I had booked that my travel guide had indicated was located in the centre of the town.
The streets were packed with Italians out for a "due passi": all of whom appeared perplexed as to what I was doing! especially when I reached the end of a street confronted with a 90 degree angle bend and no where to negotiate... Somehow I arrived in the Piazza Santa Maria just as a thunderous summer storm lit up the night sky and saw the lights of the tourist office.
The lady on duty kindly gave me directions to my villa - situated out of the town! - and as she locked the doors (I had arrived just as she was closing) the clouds opened and I took shelter from an incredible downpour under the awnings of the restaurant next door. What a first night!
I stayed in Lucca for two weeks and loved it. Wishing you a wonderful time there too.
Tourist Board Offices in Lucca
The Lucca Italy Tourist Offices may be found at:
Azienda di Promozione Turistica (APT)
Piazza Guidiccioni, 2
55100 LUCCA (LU)
Tel: +39 0583 91991 or 0583 490766
Ufficio Informazioni e di Accoglienza Turistica (IAT)
Piazza Santa Maria, 35
55100 LUCCA (LU)
Tel: +39 0583 919931 or 0583 469964
Ufficio Informazioni e Accoglienza Turistica
Palazzao Ducale Cortile Carrara
55100 LUCCA (LU)
Tel: +39 0583 919941
Ufficio Informazioni
Piazzale Verdi
55100 LUCCA (LU)
Tel: +39 0583 442944 or 0583 442944

Ufficio Informazioni
Viale Luporini
55100 LUCCA (LU)
Tel: +39 0583 583462 or 0583 550342
Tourist Board Offices in the wider Lucca area
For the Tourist Board Offices in the surrounding towns this link (sorry, the page no longer exists in the new ENIT website) will take you to the English language page of the Italian Tourist Board website where they are all listed.
This great view of Lucca in the photograph above was taken by spaceodissey.
Explore some more...
Quick links:
Find out about La Maremma only 90 minutes drive away from Lucca with the home page...