Tuscany Farmhouse Holiday Special Offers
Part One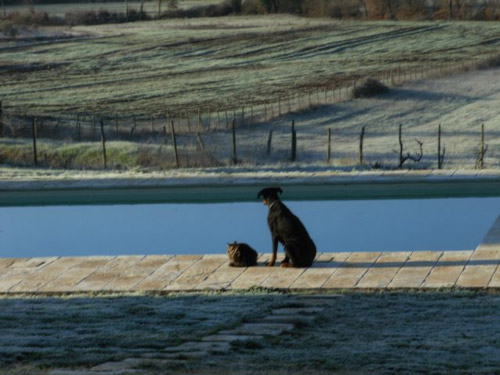 A winter Tuscany farmhouse holiday scene in Maremma
If you are sat at your computer researching your Tuscany farmhouse holiday, then this page will help you find the "agriturismo" special offers that you might otherwise miss and give you some tips on ways of saving money on your accommodation costs.
The Tuscany Farmhouse Holiday Special Offers
How to find the Tuscany farmhouse special offers to make your vacation funds go further and give you more to spend on nights out in a great restaurant with a special bottle of Maremma Super Tuscan wine... and those wonderful homemade Italian ice creams for the kids (and you!).
1. Visit the Agriturismo website
Most farmhouse special offers are only advertised on the agriturismo's own website, so if you have found the farmhouse that you want through a booking agency or travel website, check out too the agriturismo's own website (over ninety per cent have one) and see if they are offering a special package during the time that you wanted to stay. Not all reservation agents keep up to date with every agriturismo's offers. Then make your booking.
In doing so, you may also find that one of your possible choices also offers free complimentary entrance tickets to a local spa or attraction included in their prices. Or a discount or free bottle of wine if you dine in their restaurant etc.
2. Easter, Christmas and New Year Tuscany Farmhouse Special Offers
There are always some Tuscany farmhouse rental bargains are to be found during the Easter, Christmas and NewYear holiday periods.
Easter Break promotions
Easter - "Pasqua" - kick starts the is the start of the yearly season for all holiday accommodation owners, hotels and holiday apartments alike. And to get the year rolling, many "agriturismi" offer special five day or short break prices.
Christmas Holiday period
It is not uncommon during the Christmas holiday - "natale" - period for families to book the time away in an agriturismo in the snow in the mountains or close to the beach for a change of scene and mini break. Many of our cousins and friends do, often gathering the wider family together in a large farmhouse. And many "agriturismi" in Maremma offer five day packages, often with heating included within the price (but do check!), to attract these bookings.
Seeing in the New Year
Again, there are often special rates available for a short break: great for getting groups of friends or a family together in one place for the celebrations, each with their own self-contained apartment (kitchen, bathroom etc). Perfect. Everyone together with the freedom and space that self-catering accommodation offers, but no-one treading on anyones toes over breakfast or midnight snacks etc.
Last year's New Year's Eve was a warm sunny day and many people barbecued the celebration meal!
3. Early bookings
Quite a few Tuscany farmhouses will offer around a 10% discount if you make your booking before the end of January.
4. Last minute bookings
There are two possibilies for making a saving if you book at the very last minute.
The first. Although I have always booked my accommodation independently with each farmhouse or hotel etc on my worldly travels and prefer to do so, the online Tuscany farmhouse booking agencies are worth a dip into for their "clearing house" information. Under the instruction of the owners of a farmhouse who still have vacancies right up into the high summer season, the agency may offer discounts on last minute bookings for that property that will not show up in the farmhouse website information.
The second possibility depends on whether you are the type of person who is used to negotiating prices or asking for a discount when you shop at home!
If you are travelling around in Maremma during July and August and haven't pre-booked your farmhouse accommodation in advance, then turning up in person or making a telephone call to a farmhouse that still has vacancies during this most important part of the season when most would hope to be fully booked for them, may enable you to negotiate a discount. But you won't know whether they are full or not until you visit/call, so it is a bit hit and miss.
Alternatively, they may be happy to accept a shorter booking than the usual minimum of a week during those months.
5. Twitter and Google
An increasing number of Tuscany farmhouses are now using Twitter to advertise their special offers and all-in-one breaks. Doing a search for Tuscany or Tuscan with the adjectives "agriturismo", "farmhouse", "accommodation", "offer", "reduced", "special offer", "holiday", "vacation" etc may give you a new lead or two that may just be perfect.
Have a Google account? If you really want to go bargain hunting online and don't mind checking out what could end up being a long list each day, then set-up an Alert for the same searches - set it to receive one alert a day - and see what comes up. It will give you website pages and blog updates. Set it up as a "Real Time" alert and it will give you each days Twitter posts as well.
6. Accommodation In Maremma Special Offers
Check-out also the page within this website for the very best Maremma accommodation and the very special offers - accommodation in Maremma Italy.
Part Two
Part two: six more farmhouse reservation Tuscany tips on how to reduce your Tuscany farmhouse holiday costs.
The photograph above was taken at the lovely Borgonano Farmhouse near Massa Marittima in Maremma