Tuscany Italy Pictures
Undiscovered Maremma in the Winter
Tuscany Italy pictures: winter in undiscovered Maremma. The depths of winter may not be the best time to visit Tuscany, but if you happen to be planning a weekend break or staying with friends and family over Christmas, then you may be in for a real treat.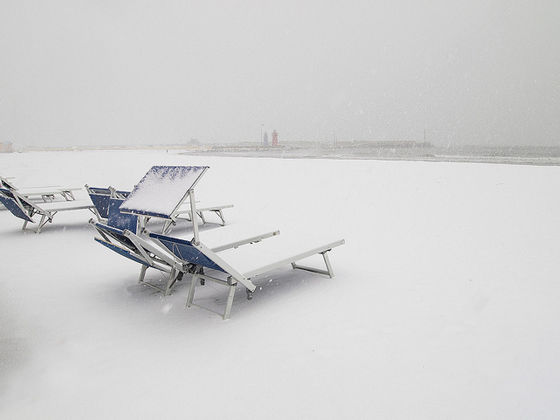 Tuscany Italy pictures: snow on north beach at Castiglione della Pescaia in December by
Opaxir
.
If you have children with you who love snow, you could even find yourself building a snowman on a stunning white Maremma beach with a blizzard blowing onshore (pack hats!) or in a medieval piazza.
Or, if warmer activities are more your kind of thing, taking long sunny walks along those same beaches or in the many woodlands, not needing to turn the heating on until it gets dark.
The daily temperatures can vary dramatically here, especially near the coast.
TIP: If you are planning a visit anytime during November through to March and thinking of self-catering accommodation, always check that the apartment or villa etc has heating in the rooms - some don't - and whether the costs are included or additional to your rental fee. Electricity and gas are very expensive in Italy.
The nature reserve of the Parco Naturale della Maremma is wonderful to visit at anytime of year: take your camera if not your swimsuit! for you will in all probability be treated to taking shots of the wildlife on the beach with you - foxes are common (wild boar in the pine woods that back the dunes at night) - and the winter sunsets are simply stunning. And there are Maremma's long-horned native cattle and herds of Maremmano horses in the fields in the park you approach the beach.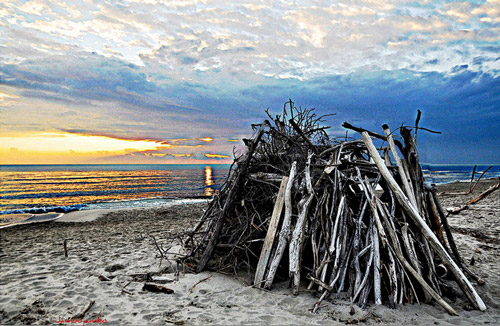 Tuscany pictures: a January winter's afternoon on the Marina di Alberese beach by kind permission of
©Giancarlo Gabbrielli
.
If you are an avid bird watcher then the Diaccia Botrone wildlife reserve near Castiglione della Pescaia is the place to go, especially during the winter months when the migrating bird numbers swell. Take a boat trip (one weekend in February it is free) and you may even be treated to a flock of pink flamingos in flight across the marshes - there are over 1,300 of them during the winter-over period. They took my breath away when they circled low around us over and over again when we took the trip last February. The reserve is one of the most important marshlands in the world.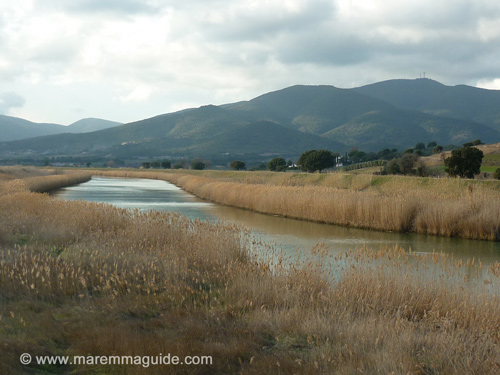 Tuscany picture: February afternoon at the Diaccia Botrone wildlife reserve near Castiglione della Pescaia with the wooded hills of the Poggio Ballone - home to the village of Tirli - in the background
What can I say? I love sunsets and so one had to get on this page (there are many more here) and the fact that Giulio took this fantastic shot on one of Maremma's and Tuscany's best beaches - Baratti - meant that it wasn't hard choosing this photo.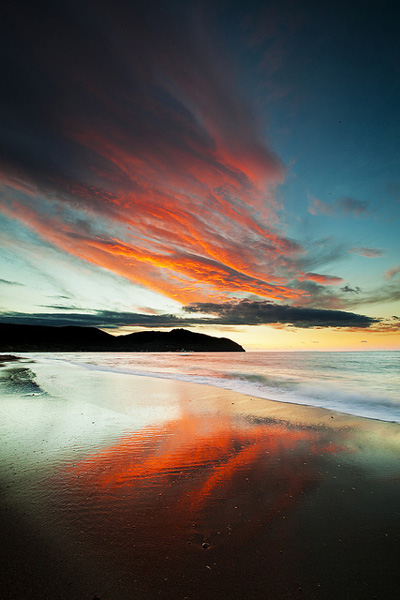 Tuscany Italy pictures: a December sunset over Baratti beach in Maremma Livornese by
©Giulio Cianchini
.
TIP: If you are visiting Maremma don't miss Baratti and Populonia. I never knew what a bucket list was until the other day - I worked it out and felt dumb! - but for those of you who have one and love anything mysterious or archaeological let alone the most beautiful beaches in the world and Italy, write this one down. I promise you it won't disappoint.
The beautiful medieval and Renaissance city of Massa Marittima - the jewel in the crown of Maremma - is another not to miss place for a taste of rural everyday life in Maremma surrounded by stunning scenery and incredible architecture. Not to mention a unique piece of middle ages art outdoors in the open.
Photos of Tuscany: a November snow-covered Piazza Garibaldi in Massa Marittima by
©Enzo Tiberi
.
A winter landscape of mist and fog around Poggi del Sasso near Cinigiano in Maremma with a view as far as the sea.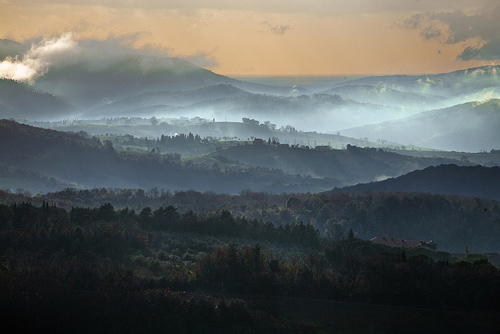 Photo of Tuscany by
©Aurelio Candido
.
Perelli beach in the nature reserve of the Parco della Sterpaia between Follonica and Piombino is is a very popular spot for amateur and professional photographers alike because of this blue this fisherman's hut and its tiny pier. And the small jetty that separates Perelli beach from adjacent Dog Beach (yes, just as its name suggests, this beach welcomes canine visitors and caters for them too!) and the canals of Fosso Cervia and Fosso Aquaviva also make this stretch of coast popular with early morning and night line fishermen.
Tuscany photos: January afternoon on Perelli I beach.