A Tuscany Vineyard and Winery in Maremma
Part Six
Well, not one Tuscany vineyard or winery, but hundreds! This is Part Six of the collection of Italian vineyards and wineries in Maremma: undiscovered Tuscany and Lazio and Italy's best kept secret, despite the fact that her lands have always been home to some of the best wines in the world.
This page covers all of the Tuscany wineries and vineyards by location from R to S - Riotorto to Suvereto in Maremma.
The links for Parts One to Five that take you from Alberese to Populonia can be found at the bottom of the page.
Enjoy planning a visit and discovering Maremma's wonderful DOC, DOCG and Super Tuscan wines!
The photograph above is of Vermentino grapes in the ©Poggio Argentiera wine estate in Alberese, Maremma.
A Tuscany Vineyard in Riotorto
Details of the wines that each of wineries produce can be found in the Maremma red, white, rose wines and grappa pages via the links at the bottom of the page.
This organic wine estate also offers holiday agriturismo apartments within a restored colonial house.
Località Casa Rossa, 2
57025 Riotorto (Livorno)
Tel. & Fax: +39 0565 20655
www.brancarelli.eu
Riparbella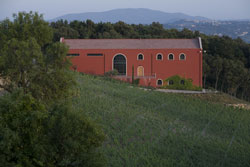 Established in 1988, Caiarossa is situated in the heart of the Val di Cecina close to the coast and within the protected wildlife area called, "Il Giardino" (the Garden). It is now owned by Eric Albada Jelgersma (also the owner of Château Giscours and Château du Tertre in Margaux, Bordeaux). Twelve vineyards of 11 grape varieties.
The architectural lines of the winery follow the oriental Feung Shui discipline, designed by architect Michael Bolle.
Read the exclusive interview with Dominique Génot, enologist and director of Caiarossa.
Località Serra all'Olio, 59
56046 Riparbella (Pisa)
Tel: +39 0586 699016
Fax: +39 0586 696749
www.caiarossa.com
An organic wine estate established in 2000 by winemaker Luca D'Attoma and Elena Celli on previous uncultivated lands along the Costa degli Etruschi, Azienda Vitivinicola Duemani now comprises of over 7 hectares of vines over three vineyards.
Località Ortacavoli
56046 Riparbella (Pisa)
Tel: +39 0583 957048
Fax: +39 0583 974675
www.duemani.eu
Podere La Regola is a family-run estate - brothers Luca and Flavio Nuti - situated in the valley of the Cecina river within Montescudaio DOC territory. The first bottled wines were produced in 1997, although the family has produced wines for their own consumption from the establishment of the farm at the beginning of the 20th century.
Località San Martino
56046 Riparbella (Pisa)
Tel: +39 0588 81363
Fax: +39 0588 90378
www.laregola.com
Roccastrada
Established in 2002 by three friends Elisabetta Foradori, Giovanni Podini and Thomas Widmann, the estate of Ampeleia comprises of 50 hectares of Cabernet Franc, Sangiovese, Cannonau, Carignan, Mourvedre, Alicante and Marsellane grape vines in a variety of plots near Roccastrada.
Wine tasting and tours: wine tasting is available in the Ampeleia shop and tours are possible. Open every day.
Location Meleta
58028 Roccatederighi (Grosseto)
Tel: +39 0564 567155
Fax: +39 0564 567146
www.ampeleia.it
AZIENDA AGRICOLA IL BETTARELLO
Podere Bettarello
58036 Roccastrada (Grosseto)
Tel. & Fax: +39 0564 577582
www.bettarello.com
Roselle Terme
Mustiaio is a vineyard of 12 hectares, the main grapes of which comprising Sangiovese along with Merlot, Cabernet Sauvignon and Ciliegiolo for its red wines, and Vermentino with Trebbiano Toscano, Malvasia and Riesling Renano for the whites.
Podere Mustiaio
Strada dello Sbirro
58100 Roselle Terme (Grosseto)
Tel. & Fax: +39 0564 402671
www.mustiaio.it
Sassetta
Agriturismo Podere La Cerreta is an organic farm that also offers agriturismo holiday accommodation, horse riding lessons and horse trekking with Maremmano horses.
Località Pian delle Vigne
57020 Sassetta (Livorno)
Tel. & Fax: +39 0565 794352
www.cerreta.it
Scansano
CANTINA VIGNAIOLI MORELLINO DI SCANSANO
Cantina Vignaioli Morellino di Scansano is a cooperative of 152 vineyard owners covering 400 hectares in the comunes of Scansano, Magliano, Manciano, Campagnatico and others in the province of Grosseto. They process around 33,000 tons of grapes a year! bottling 20% of the production of wine in the Morellino territory.
Soc. Coop. Agricola
58054 Scansano (Grosseto)
Tel: +39 0564 507288 or 507979
Fax: + 39 0564 507785
www.cantinadelmorellino.it
The vineyards and winery of Fattoria Le Pupille are the brainchild of 2006 "Woman Winemaker of the Year", Elisabetta Geppetti. From a 1970's farmhouse with 2 hectares of Sangiovese vines, the Fattoria now comprises of ten vineyards over 420 hectares in the area surrounding the headquarters, near the hamlet of Petra and in the districts of Magliano, Scansano and Grosseto.
Wine tasting and tours: Wine tasting - with or without complimentary Maremman food - is available upon advanced arrangement.
Piagge del Maiano, 92/A
Localita Istia d'Ombrone
58100 Grosseto
Tel: +39 0564 409517 or 409518
Fax: +39 0564 409519
www.elisabettageppetti.com
Scarlino
L'AZIENDA VITIVINCOLA IL PUPILLO
Third generation family-run vineyards in the Monteregio di Massa production Marittima area on the hills of Scarlino, they have been producing wines and olive oil since 1957.
Wine tasting and tours: Upon prior reservation (via the website), wine tasting and guided tours on Tuesdays and Fridays.
Strada Provinciale N.60
5820 Scarlino
Tel. & Fax: + 39 0566 37230
www.ilpupillo.com

The La Pierotta estate, owned and managed by the the Rustici family, lies at the foot of the Monte d'Alma within the heart of the Alta Maremma Toscana. From a beginning of half a hectare of vines in 1957 for the production of wine for the family, the estate now has 13 hectares of vines within the "Denominazione di Origine Controllata Monteregio di Massa Marittima".
Wine tasting and tours: La Pierotta welcomes you to their azienda to taste their wines in ther "sala di degustazione".
Localita La Pierotta
58020 Scarlino (Grosseto)
Tel & Fax: +39 0566 37218
www.lapierotta.it
Seggiano
AZIENDA AGRICOLA PIANDIBUGNANO
The three and a half hectare vineyards of this azienda vinicola are the creation of three friends: Giorgio Buceli, Paolo Trappolini and Carlo Filippeschi who together founded Piandibugnano in 2001.
Località Piandibugnano
58038 Seggiano (Grosseto)
Tel. & Fax: +39 0564 950773
www.piandibugnano.com
AZIENDA AGRICOLA PODERE IL CASINO
Lying at the foothills of Monte Amiata the 65 hectares estate of Podere Il Casion comprises of 28 hectares of crops, 4 hectares of vines, 6 of olive groves (with 350 between 200 and 1000 years old Olivastra Seggianese trees) and 18 hectares of arable land. the farm was certified as organic in 2006 and produced its first bottled wines in 2007.
It is run by Anders Gautschi and Franziska Burkhardt.
Località Podere Il Casino
58038 Seggiano
Tel. & Fax: + 39 0564 950473
www.podereilcasino.net
Suvereto
AZIENDA AGRICOLA GUALDO DEL RE
The wine estate, restaurant and farmhouse holiday apartments of Azienda Agricola Gualdo del Re - located a few kilometres from the Etrsucan coastline in Maremma - are owned and run by the Rossi family.
Località Notri, 77
57028 Suvereto (Livorno)
Tel: +39 0565 829888
Fax: +39 0565 827328
www.www.gualdodelre.it
This imposing wine estate in Maremma Livornese is owned by father and daughter Vittorio an Francesca Moretti and comprises 300 hectares of vineyards, olive groves and woodland.
The infrastructure was designed by Swiss architect Mario Botta and will make you look twice and then again as you catch it with your eye for the first time, for it looks like an alien spaceship that has landed on the hillside! Completely different from any other Tuscan winery that I have seen.
Località San Lorenzo Alto, 131
57028 Suvereto (Livorno)
Tel: +39 0565 845308
Fax: +39 0565 845728
www.petrawine.it
The Tuscany vineyards and wineries in Maremma - Parts One to Five