Italian Vineyards and Wineries
in Maremma
Part One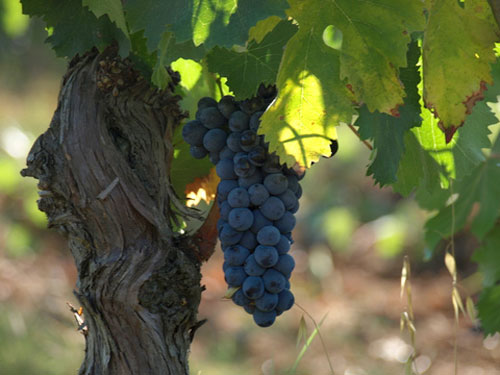 Italian vineyards and wineries in Maremma. The production of wine in this special part of Tuscany and Lazio has been a very important part of everyday life here since the Etruscan age. But we aren't talking about just any wine: for long before the term "Super Tuscan wine" appeared in wine guides and glossy Sunday newspaper magazines, the wine produced from the coastal vineyards of Maremma was of such a high quality and sought after to be exported by the Etruscans across Europe to France.
In these pages you will find Maremma's vineyards and wineries, together with details of the wonderful wines that they each produce. From smaller father and son estates to the major wine producers in the area, to newly established vineyards trying different grape blends and new world techniques.
This page is Part One: locations from Alberese to Bolgheri. The links for Parts Two to Six - taking you from Caldana in Gavorrano to Suvereto - can be found at the bottom of the page.
Where a vineyard or winery is happy to offer wine tasting and tours, I have included the information in the listing as well.
If you are short of time to arrange visits independently, or prefer to go with a tour operator etc, then this Tuscany wine tasting tours link will take you to a selection of organisations that offer a variety of wine tasting tours in Maremma and wider Tuscany; from individually tailored events to group trips including meals and accommodation.
Have fun browsing and planning a great exploration of Maremma wine!
The photograph above - courtesy of Poggio Argentiera - is of Ciliegiolo grapes on vines planted in 1968 and was taken during a September harvest in Maremma.
Italian Vineyards and Wineries in Alberese
Details of the wines that each of wineries produce can be found in the Maremma red, white, rose wines and grappa pages via the links at the bottom of the page.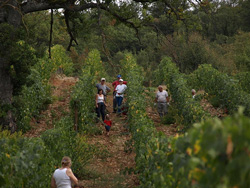 Poggio Argentiera is a young winery of 22 hectares run by husband and wife Maremmano Gianpaolo Paglia and English Justine Keeling. The estate vineyards are both within the Morellino di Scansano DOCG appellation. The first - Podere Adua - is in Alberese, close to the Maremma Natural Park, and the second - Podere Keeling - in Fontequaranta, near the small village of Baccinello, Scansano. They also lease or control vineyards in Pitigliano and Sorano and Manciano.
Wine tasting and tours: Happy for you to visit to taste the wines, but you are strongly advised to call or email a few days in advance to make sure that it will be possible on the day you are thinking of.
Localita Banditella, 2
Alberese 58100 (Grosseto)
Tel: +39 0564405099
Fax: +39 0564 405749
www.poggioargentiera.com
Italian Vineyards and Wineries in Bolgheri
AZIENDA AGRICOLA CACCIA AL PIANO 1868
The wine estate of Azienda Agricola al Piano 1868 has three vineyards planted over 20 hectares of Merlot, Cabernet Sauvignon and Cabernet Franc vines. It forms part of the Berlucchi Group estates.
Via Bolgherese, 279
57022 Bolgheri (Livorno)
Tel: +39 030 984391
Fax: +39 030 9884640
www.berlucchi.it
AZIENDA AGRICOLA CAMPO AL NOCE
A family-run estate - the Sgariglia family - of six hectares of vines within DOC Bolgheri territory.
Localita Campo al Noce, 151
57022 Bolgheri (Livorno)
Tel. & Fax: +39 0565 749638
www.campoalnoce.it
Established in 1998 by the company Knauf, this estate comprises of 20 hectares of vines all within the Bolgheri DOC territory. The estates first wines were available for purchase in 2004.
Wine tasting and tours: guided visits of the vineyards and 10 metre deep underground cellars with wine tastings are possible by prior appointment. Please telephone or email.
Themed tasting sessions for small groups (of up to 15 people) combined with local excursions are also possible upon prior appointment.
Località Caccia al Piano, 280
57022 Bolgheri (Livorno)
Tel: +39 0565 766939 or +39 347 7126160
Fax: +39 0565 766938
www.campoalsughera.com
The azienda was first established in 1950 by the grandparents of sister and brother Gessica and Giuliano Frollani who now run the estate. The vineyards were radically changed in 2001 and now comprise 25 hectares of vines: four within the DOC Bolgheri territory and the remaining within Terratico di Bibbona DOC territory.
Località Le Ferruggini, 162/A
57022 Bolgheri (Livorno)
Tel. Fax: +39 0565 749690
www.fattoriacasaditerra.com
The 130 hectare estate and Bolgheri Castle belong to the "Conti della Gheradesca" - Counts of Gherardesca, currently Countess Franca Spalletti Trivelli and Count Clemente Zileri Dal Verme. All of the fifty hectares planted with vines are within Bolgheri DOC territory.
If you fancy a stay amongst vines, the castle also offers farmhouse accommodation and has two holiday apartments within Bolgheri village.
Wine tasting and tours: tastings and guided visits of the cellars by appointment - telephone or email.

57020 Bolgheri
Castagneto Carducci (Livorno)
Tel: +39 0565 762110
Fax: +39 0565 762116
www.castellodibolgheri.eu
AZIENDA AGRICOLA DI VAIRA VINCENZO
Established in 1978, Di Vaira is a 50 hectare family-run farm - Vincenzi di Vaira, his wife Emanuela Granchi and their daughters Sara and Romina Di Vaira - with four hectares of vines and olive groves.
Wine tasting and tours: guided tours - of about one hour - with explanations of the cultivation and production techniques used on the farm, plus tastings of all of the azienda's products, are possible for both small and large groups. It is suggested that you book in advance to do so.
Via Bolgherese, 275/A
57022 Bolgheri (Livorno)
Tel. Fax: +39 0565 763581
www.vincenzodivaria.it
Donna Olimpia 1898 was created by Guido Folonari and is a 60 hectare estate, of which forty hectares are vineyards all within the Bolgheri DOC territory. The first vinatge was in 2007.
Località Migliarni, 142
57022 Bolgheri (Livorno)
Tel: +39 02 72094585
Fax: +39 02 72080073
www.donnaolimpia1898.it
A family-run wine and olive oil estate with and agriturismo farmhouse and apartment accommodation. Three hectares of vineyards at the foot of the Castagneto Carducci hills.
Wine tasting and tours: the cellar is open every day for tasting both their wines and farm products.
Via Bogherese, 275/A
57020 Bolgheri (Livorno)
Tel. & Fax: +39 0565 763511
www.agriturismoeucaliptus.com
AZIENDA AGRICOLA GIOVANNI CHIAPPINI
Azienda Agricola Giovanni Chiappini is the Chiappini family estate of over 20 hectares of which 5 hectares are vines and 7 olive groves. The first vineyards were planted in 1995, producing their first bottled wines in 2000.
Località Le Preselle
Podere Felciaino 189/B
57020 Bolgheri (Livorno)
Tel. & Fax: +39 0565 765201
www.giovannichiappini.it
TENUTA GUADO AL TASSO - ANTINORI
The Guadi al Tasso estate originally belonged to the 4000 hectare lands of the medieval Della Gherardesca family and is now part of the Antinori wine estates. It comprises 1000 hectares with 300 hectares of vineyards; the remaining are planted with wheat, sunflowers and olive groves.
Wine tasting and tours: the estate only accepts visits from professionals and experts in the wine sector.
Strada Aurelia
Località Scalabrone
57024 Donoratico (Livorno)
Tel: +39 0565 749735
www.antinori.it
Tenuta dell'Ornellaia is amongst the most famous to date of all of Maremma's vineyards and wineries. Founded in 1981 it comprises of 192 hectares (at Ornellaia and the adjacent property of Bellaria) producing internationally renowned and extensively written about wines.
Wine tasting and tours: tours of the estate and cellars with wine tasting - with or without dining at the estate - can be arranged. Reservations in advance are required.
Via Bolgherese, 191
Bolgheri
57022 Castagneto Carducci (Livorno)
Tel: +39 0565 71811
Fax: +39 0565 718230
www.ornellaia.com
Established by Marquis Mario Incisa della Rocchetta when the land passed into the family's estate upon his marriage to Clarice della Gherardesca, Tenuta San Guido is perhaps best known for bringing Cabernet Sauvignon and barriques to Italy and La Maremma. Wine production commenced in 1948, but the first Tenuta San Guido vintage was in 1968.
It was here that the first "Super Tuscan" wine was born - under the estates label "Sassicaia". The whole estate, The three zones of vineyards, stud farm for the pure-bred Dormello-Olgiata horses, and woodlands are now run by the Marquis' son Nicolò Incisa.
Località Le Capanne, 27
57022 Bolgheri (Livorno)
Tel: +39 0565 762003
Fax: +39 0565 762017
www.sassicaia.com
Established in 1954 within the DOC Bolgheri territory, Fattoria Terre del Marchesato is a family-run estate - the Fuselli family - with its first vintage in 2003.
Wine tasting and tours: guided visits to the estates vineyards with wine (olive oil and local products) tasting in the cellars and tasting rooms can be arranged. Enquiries via the wineries website contact form.
Località S. Uberto. 164
57020 Bolgheri (Livorno)
Tel: +39 0565 749752
Fax: +39 0565 749619
www.fattoriaterredelmarchesato.it
The Italian wineries and vineyards in Maremma
- Parts Two to Six