The Best Maremma Restaurants, Trattorias, Osterias, & Pizzerias
... and their menus
Want to know which are the best Maremma Restaurants? The restaurants in this guide are my favourites and personal recommendations of my Italian friends and family.
Good food and eating well - "mangia bene" - are an intrinsic part of Italian culture and no less so in this undiscovered part of rural Tuscany and Lazio called Maremma. In these best of Italian restaurants you can be assured of a wonderful meal.
A Maremma Restaurant, Osteria, Trattoria, or Pizzeria?
Traditionally, an Osteria served simple home cooked foods, with a changing daily menu. Their main clientele would have been local workers. Their dishes the same "poor foods" that are today the revered traditional recipes of Maremma and other parts of Tuscany, cooked with local fresh seasonal produce.
Trattoria were somewhat more elegant, again with home cooking, but also a menu with "piatti di giorno" - specials of the day.
Pizzerias, as their name suggests, served pizzas often cooked in traditional wooden ovens ("forno a legno") and offered a range of first course, "primi piatti", pasta dishes. Now a lot of pizzerias have invested in specialist electric pizza ovens, the pizzas from which taste just as good.
A Spaghetteria specialised in plates of the pasta spaghetti, but not exclusively so. Often as not a spaghetteria birreria and pizzeria all in one!
True Restaurants were more elegant and expensive affairs, with extensive menus and wine lists.
Today, the distinction between Maremma restaurants, osterias, trattorias and pizzerias, has all but been lost and you and will frequently see signs that include two or more descriptions... "Trattoria & Ristorante", "Osteria Ristorante", or "Pizzeria Ristorante". The prices at these establishments does not vary very much from one to the other.
Cover charge
The cover charge in Maremman restaurants varies from none to Euros 1 or 2 a head. In most places a basket of bread is made available as part of the cover charge as Italians traditionally eat bread with their second meat or fish course. Ask for more bread if you run out - it is normal practice.
At a lot of restaurants - but unfortunately not all - a cover charge isn't made for young children for whom you don't order a separate plate of food. Extra plates for them are always readily and happily given.
House wine - "Vino della Casa"
Maremma produces some wonderful and internationally renowned wines... Monterregio di Massa Marittima and the Sangiovese Morellino di Scansano to name just two. Unless you are looking to drink a particular wine, my recommendation is to first try the house wine. It is usually a good quality wine, sometimes exceptionally so, produced locally or from within wider Maremma. You can order most house wines in quarter, half or litre jugs ("brocca").
Most italians drink the white house wine "frizzante" - sparkling, and you will be brought this unless you indicate that you wish for "firmo" - still. In some restaurants there is only frizzante white house wine.
Reserving a table
During the summer months it is advisable to book a table in advance, even if on the day itself. Otherwise, even in what might seem the remotest of places, you may have to wait until very late to eat or miss the possibility at the place of your choice. Remember, the majority of Italy is on holiday during the whole month of August, and many from mid July to mid August, or mid August to mid September. A lot of whom are eating out at their favourite vacation restaurant, to which they return year after year.
Lunch in Tuscany on a budget
Eating out in Tuscany at lunchtime on a tight budget doesn't always have to mean "panini" sat on the steps of a "duomo" in a piazza, on a bench in a park, or in the pine woods behind a beach. Although, I have to say that some of my most memorable meals in Tuscany have been just those :)
But for the days when you would prefer a lazy meal sat at a table in the shade outdoors. Or indoors on a chilly autumnal day, with a wood-burning stove alight next to you, and the company of locals eating their lunch. Then the "Abbuffata", at 12,60 euros for two, will hit the spot and have you returning for another, or one of the other varieties if Tuscan spreads at this favourite of stops of mine near the coast.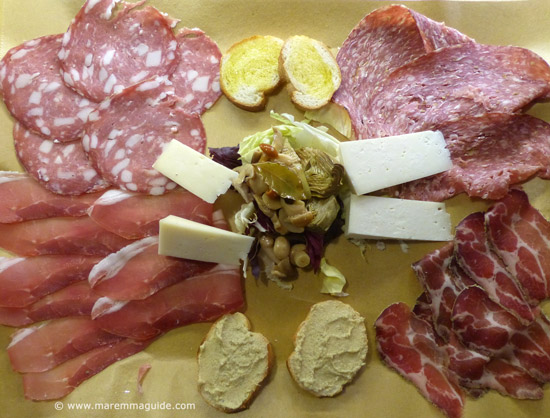 Top of the list of my favourites
Ristorante "Il Leccio"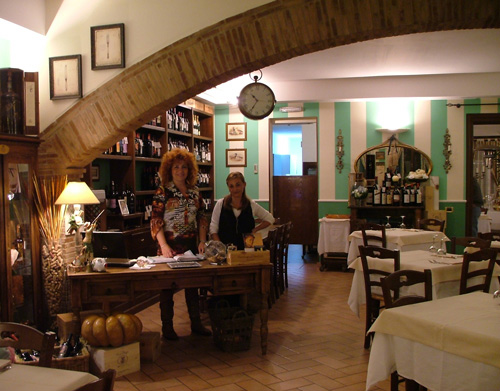 One of my very favourite Maremma restaurants is in a very small place called Cura Nuova often not shown on the maps of the region, and so deserves a special mention for both reasons.
Ristorante "Il Leccio" serves Maremman specialities, "specialita Maremmane" and is a meat restaurant. (If you are looking to dine on fish, there are some good restaurants in Follonica to try.)
The lady owner and all her staff provide an extremely friendly and excellent service. The cooking is wonderful: there is not one of their dishes I would not recommend. All the pasta is homemade, excellent and cooked perfectly. And if you have a sweet tooth like me and have space, all the puddings are also homemade - try the flaming Creme Catalan, it is bliss!
If you wish to savour a number of home-cooked Maremman dishes, I can highly recommend their fixed price menu - "Menu Degustazione". For Euros 30 per head, the menu includes cover charge, (wonderful) local wine, bottled water, a great plate of antipasti of sliced meats and cheeses etc, two traditional Maremman pasta courses, a second course of mixed barbecued meats (sausages, spare ribs, wild fowl) with "contorni" - side dishes of roast potatoes and salad, a homemade desert, coffee and "digestivo" - grappa or limoncello liqueur etc.
A word of warning, do go hungry or you won't make it past the second pasta dish!
Always book in advance for this best of Maremma restaurants if you can - even if it is at lunchtime for the evening. Nearly every time that I have eaten there I have witnessed the owner having to turn customers away.
Open Sunday to Friday for lunch and dinner (closed on Saturday)
Tel: +39 0566 918018 or mobile +39 339 5641710
Find out more and take a look at their menu: Ristorante "Il Leccio".
Other Best Maremma Restaurants
by city, town and village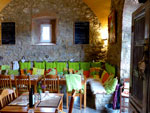 Cana, Roccalbegna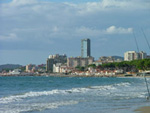 Follonica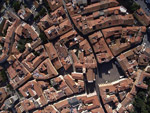 Grosseto
Massa Marittima
Piombino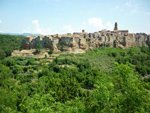 Pitigliano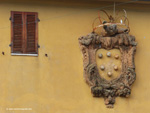 Valpiana
And, an honorary mention as the town of Chuisdino is just outside of the Maremma Grossetana border in the Sienese side of Maremma's hills, but Ristorante Il Minestraio is a favourite nonetheless.
No restaurant listed in the place you are staying or planning to visit?
Don't worry. The "ristoranti" listed above are by no means the only good places to eat a great meal in Maremma. Fortunately, this part of Tuscany and Lazio does not suffer (yet) from the tourist crowd serving establishments of places like nearby Florence, Siena or Rome, and finding a good place to savour the local Maremman specialities where the locals do is not hard. I just haven't had the pleasure of eating in them all yet, but I am on the case!
Just be conscious that the look of shop and restaurant fronts in Italy can sometimes be deceptive. There is often a lot more behind the frontage than is suggested. So take a tip and explore some of the Maremma restaurants, osterias and trattorias etc whose frontage is simple or not necessarily as modern looking as the others... Especially give it a try if, when you pop your had inside the door to take a peep, you spot tables occupied by groups of men in agricultural or forestry clothing. You may well eat one of the best meals of your life at the tables inside.
Along the coast in Maremma some restaurants are only open for the summer holiday tourist season - for example the pizzerias in the pine parks behind the beaches - but don't be put off, as they are normally catering to a majority Italian clientele and so the expectation and quality of the food is still high.
The Maremma Guide Readers Restaurant Tips
Three excellent restaurants in Maremma: favourite places that we return to time and time again and are never disappointed.
The Maremma Restaurants Directory
| | |
| --- | --- |
| | |
| | |
In the meantime, whilst I am eating my way around la Maremma in the interests of research for this Guide! why not take a look at the some more restaurants in the "ristorante in Maremma" page. The pages for each of the restaurants, osterias, trattorias and pizzerias have been submitted by their owners and translated by me (to my best ability) so you can read about them in both Italian and English.
The Maremma Restaurant Menus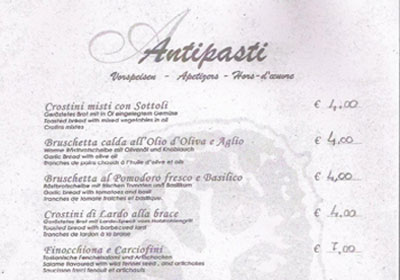 Can't wait and want to browse their menus before you get there? Or just love Italian food and looking for inspiration for some authentic dishes to cook at home? Then pour yourself a glass of wine and click on over to the Italian restaurant menus from Maremma page: enjoy!
More places to eat out in Tuscany:
"Le Sagre" - Italian wine and food festivals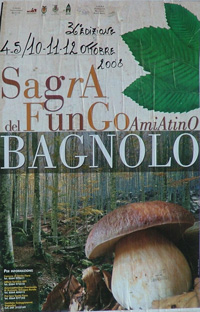 An alternative choice for eating out in the evenings during the spring, summer, and autumn months is the local "sagra" - a traditional food feast held in most towns and villages.
These events are well worth considering if you would like to savour home cooked traditional food and great wine for a lot less than a similar meal would cost at a restaurant. Great for kids too, as they are held outdoors and there is often free entertainment laid on as well.
Read all about what to expect at a Sagre, and check out those that are on whilst you are here in the month by month calendar.